<![if !vml]>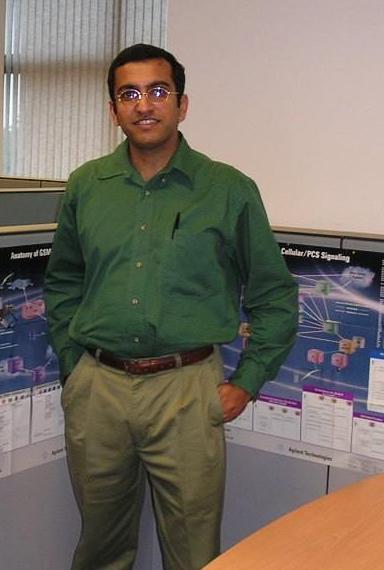 <![endif]>I am Sumit Kasera. I am an engineer by profession, and currently work at Aricent as Principal System Engineer.

I was born in Calcutta in 1975, where I spent my first 15 years of life. My early schooling was in Hindi High School, Kolkata. From Kolkata, my father's job took him to places and I followed suit. I did my high school from Bishop Westcott Boys School, Ranchi and senior secondary from DAV Jawahar Vidya Mandir, Ranchi. DAV was famous for its excellent performance in engineering and medical examinations. Around 20-30 students of DAV cleared IIT JEE examination every year. I also was fortunate to be one. Getting a rank of 322 in Joint Entrance Exam, I found myself at Indian Institute of Technology (IIT), Kharagpur, the premier engineering college in India.
The stay at IIT Kharagpur (1994-19998) was one of the most memorable experiences of my life - an experience that cannot be paralleled in terms of experiences, learning and enrichment of all sorts conceivable. There, I tried to excel in various disciplines and found moderate success in table tennis, in which I bagged few medals, and dramatics. Dramatics was a passion for me, as I staged some memorable plays like "Pagla Ghoda" by Badal Sirkar, "Court Martial" by Swadesh Deepak, among others. (see DRAMA). .
There, I also picked up creative writing, both in Hindi and English. Some of my creative pieces are available at HINDI COLLECTION and ENGLISH COLLECTION.
At IIT Kharagpur, I lived at Lala Lajpat Rai Hostell, a hall famous for its maxim "Once a Lajpatian, Always a lajpatian". There, we formed our very own close knit family of atopians, a motley group of people who were as talented as one can be (see atop).
In 1998, I completed my B. Tech(hons) in Computer Sc. and Engg. from Indian Institute of Technology, Kharagpur, India. After completing graduation, I moved over to Delhi, and joined Aricent (then called the Hughes Software Systems) Gurgaon, the #1 communication company in India. In last ten years or so, I have risen from Software engineer, to Principle Systems Engineer.
While I have always aspired to venture into fiction, destiny has other ideas in mind. So instead of story books, I am deep into technical writing and have published 5 books with Tata Mcgraw Hill, three of which have been published internationally by Mcgraw-hill USA. However, the first book on ATM Technology titled "ATM Networks: Concepts and Protocols" always remains dear. I have also written technical papers and presented couple of seminars at Bangalore and Delhi.
Of late, I have continued my penchant for creative writing and taken up writing short stories seriously. I also like photography (see photo), and watching cricket. Also, I love to travel, both in India and abroad. My favourite pastime is to write on various aspects of life. Visit my blog site at http://chachus-blog.blogspot.com/ or also visit my writings at http://groups.yahoo.com/group/chachus_pen/
I would like to share with you my experiences and thoughts . So email me without thinking twice. My email address is s.kasera@lycos.com or my alter ego chachu321@yahoo.com.
To end this summary, I would just like to say few words. There is no such thing as Utopia. Life continues with all its thrills and frills. And our endeavor should be to live life, to go through various faces life reveals during the journey, and If possible, leave the world slightly better than the way we found it. Happy living.....
"Kissi ko yahan mukammal jahan nahin milta, kissi ko jameen ot kissi ko aasmaan nahin milta"
~ SUMIT KASERA (alias CHACHU, my eternal twin)
Page last updated on 15th April, 2008.